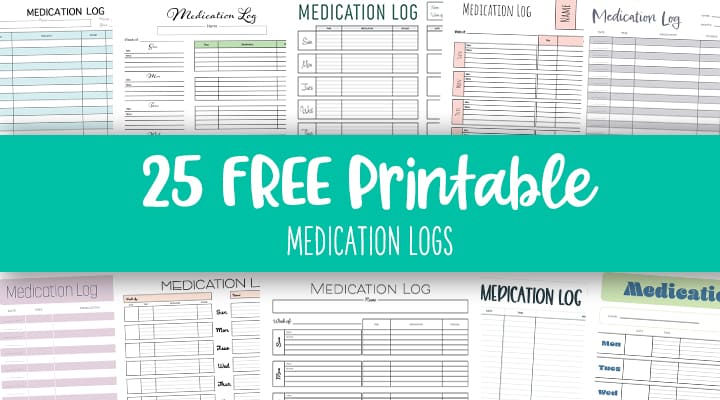 If you or a family member is or has been sick, either temporarily or chronically, you know how difficult it can be to remember if medication was taken, how much, and when. When it is administered we think we'll remember but inevitably we don't. The need to keep track of this important information is made even more apparent when there are multiple medications to be taken – of course, in this case, or in any case that involves medicine, it is always best to get the advice of your doctor or pharmacist to make sure they are safe for you to take. But if you need help keeping track of what you've already been prescribed or advised by a medical professional then we are here to help!
Below, you will find a variety of Free Printable Medication Logs to help you stay on top of any and all medications you are taking. Whether it's over-the-counter cold medicine or a prescription to manage high blood pressure, you'll be able to log your information and know when it is appropriate to take your medicine again. All you have to do is click on the image of the medication log that will best suit your needs, download the PDF file to your computer, and print!
If you want more free printables to help you in your journey to good health (ALL of our Health and Fitness Printables are here), check out some of our other posts:
Free Printable Body Measurement Charts
Free Printable Weight Loss Trackers
Additionally, don't miss our companion posts (same design options so your printables match but have different purposes and functionality) with these printables:
We are not medical professionals. We strongly recommend you follow any/all professional medical advice you have received and use these printables only where they support said medical advice.
Monthly Medication Logs
Weekly Medication Logs