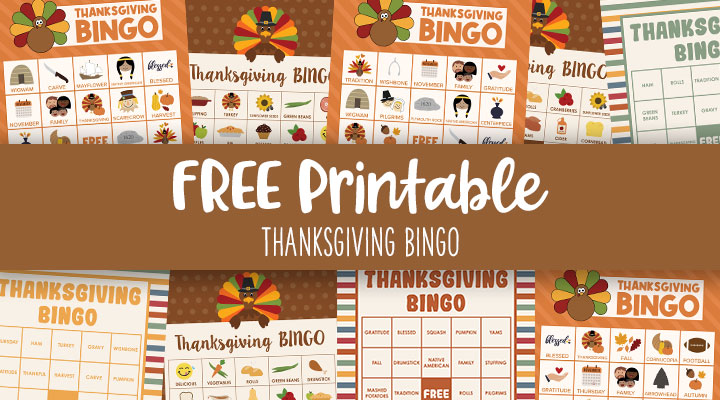 Now that Halloween has come and gone everyone's focus is on the next major holiday: Thanksgiving! While you're busy prepping for the big day, making your Thanksgiving dinner shopping lists and checklists, and fine-tuning your Thanksgiving cooking schedule, keep your kids' hands and minds busy by printing some of our free printable Thanksgiving Word Scrambles, Happy Thanksgiving Coloring Pages, and last but certainly not least these Thanksgiving Bingo Sets you can download below!
We have 3 different sets to choose from (with 12 cards in each set): one set has images illustrating Thanksgiving food, another has different Thanksgiving-related pictures, and the third has a combination of both Thanksgiving themes but in word form. The first two sets are great for the pre-school crowd who haven't yet learned to read while any of the three sets can be used for older children who are just learning or who have already learned to read.
Simply click on the image below representing the set you'd like to use, download the file to your computer, and print from home! It couldn't be any easier.
Helpful Supplies
Here are a few helpful supplies we've found when using these free printable Thanksgiving bingo sets:
Laminator – A good laminator is perfect for your printable bingo cards and can even be used for the circular markers as well.
Lamination sheets – Replacement sheets for your laminator.
Cardstock – Our favorite cardstock! Perfect for the Thanksgiving bingo cards and markers so they last even longer!
Paper – Affordable and good-quality paper!
1″ Circle Hole Punch – Perfect for cutting out the markers as quickly as possible!
Scissors – Our favorite pair of scissors. Perfect for any size or cut!
The links above are affiliate links. This simply means we get a small amount of money if you buy them on Amazon. These are purely optional and provided to help. Whether you need supplies or not, we hope you enjoy the free printables below. No strings attached!
The brown backgrounds in the preview images below are just to display multi-page downloads. The downloads themselves do not have a brown background. All pages are a full sheet of standard paper.