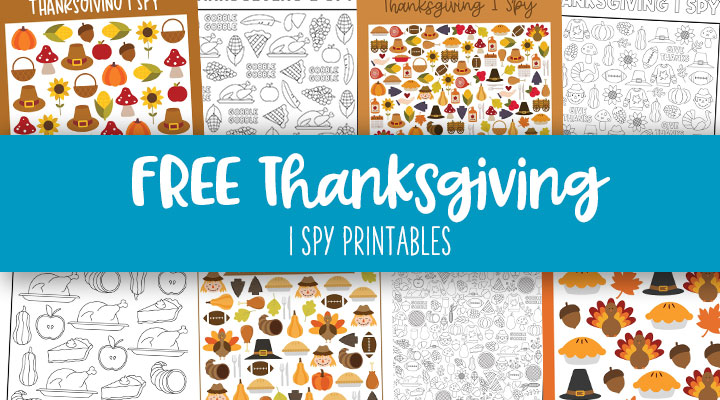 There can be no doubt that Thanksgiving Day is a busy one whether traveling or hosting. Between cleaning, decorating, and preparing the biggest meal of the year there is a lot going on! If you're going to be entertaining children at your Thanksgiving feast then we have just the thing to keep them entertained while you help with/prepare for the main event. In addition to our Free Printable Thanksgiving Bingo, Thanksgiving Word Scrambles, Thanksgiving Word Searches, and Thanksgiving Placemats, we're also adding these Free Thanksgiving I Spy printables to your supply of Thanksgiving-themed activities for children!
The paper version of the classic "I Spy" game we all played as kids is a fun one for sure. With 8 unique options to choose from below (including easy to extra hard) and even a choice between full-color and coloring pages, we're sure you'll find something to keep all the children at your Thanksgiving party happily occupied.
All you need to do is click on the image(s) of the I Spy games you'd like to use, download the PDF file(s) to your computer, and print! If only putting together a huge turkey dinner was just as easy! (Though, to help you out with that too you can print our Free Printable Thanksgiving Shopping Lists and Checklists and our Free Printable Thanksgiving Cooking Schedules.)
For more Turkey Day printables, check out our Free Thanksgiving Printables and Free Printable Thanksgiving Coloring Pages!
Thanksgiving I Spy – Full Color Pages
The I Spy pages below are gorgeous full-color versions and are shown from easy to extra hard.
Thanksgiving I Spy – Coloring Pages
The I Spy pages below not only offer a great seek-and-find challenge but also allow the little ones to color in the objects as they find them. The printables below go from easy to extra hard.