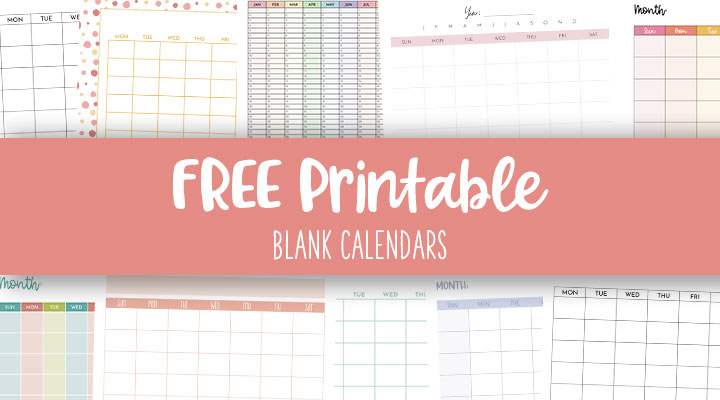 You may have come across our very popular Free Printable Calendars that come in many, many designs, orientations, and differing features. They are excellent for keeping everyone organized and on top of all the things that keep us busy from month to month. We post new calendars well in advance of each month so you can have them available to print when you need them and start planning your future. But there may be instances where you just need a blank, evergreen calendar that you can print and write in your own month and dates. For these occasions, we'd like to offer you these Free Printable Blank Calendars to print and use as you'd like! You could even print just one, laminate it, and use it over and over again with a dry-erase marker.
Several of the design options below have a traditional Sunday start to the week, but if you prefer a Monday start we've got some of those as well (we think they're perfect for meal planning)! We also have some blank calendar printables with the weekends highlighted, "notes" sections, and even blank yearly calendars if you're looking to get even more organized in the days (and months) ahead. We hope you'll find whatever it is you're needing in a (free!) blank calendar template in the options below. All you need to do to print your own is to follow these three simple steps:
Click on the image of the blank calendar you'd like to use,
Download the PDF file to your computer, and
Print!
For even more free organizational printables to keep you on your game, check out some of our other posts:
Free Printable Hourly Planners
Free Printable Weekly Planners
Free Printable Two Week Planners
Free Printable Weekly To Do Lists
Free Printable Monthly To Do Lists
Blank Calendars – Sunday Start
Blank Calendars – Monday Start
Blank Yearly/Annual Calendars
Blank Calendars – Notes & Weekends Shaded