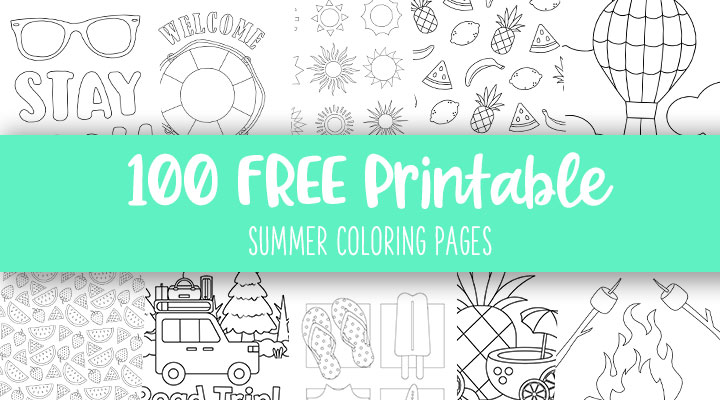 Summer is always an enjoyable season because of the hot, sunny weather (of course) but also because kids are home from school and it provides an opportunity to spend plenty of time together as families! Whether your idea of a relaxing, quality time-filled summer consists of reading in a backyard hammock in the shade of a tree, frequenting local playgrounds and splash pads, visiting relatives, or week-long vacations at the beach we're sure these Free Printable Summer Coloring Pages (the printable pages below are primarily geared towards kids and include: "hello summer", camping and camp fires, smores, barbeques, beaches, ice cream, summer flowers, and just LOTS of cute summer coloring pages!) are going to be great for either long road trips or for filling in the gaps between all the goings on you have this summer.
If you're still not sure what the coming summer looks like for you, make sure you have everyone in your family fill out a Summer Bucket List and schedule as many of the ideas as you can in your Summer Calendar!
To get your Free Printable Summer Coloring Pages, all you need to do is follow these three simple steps:
Click on the image of the page(s) you'd like to use,
Download the PDF file(s) to your computer, and
Print!
If you're traveling, you could even take these pages (and any of our summertime coloring pages suggested just beneath this paragraph) and put them all in a binder or folder to use as a fun activity in the car or plane!
For more free printable summertime coloring pages be sure to take a look at some of our other posts:
Free Printable Beach Coloring Pages
Free Printable Pineapple Coloring Pages
Free Printable Watermelon Coloring Pages
Free Printable 4th of July Coloring Pages
Free Printable Firework Coloring Pages
Free Printable American Flag Coloring Pages & Templates
Free Printable Butterfly Coloring Pages